Perry County Health Department
---
Tobacco use is the single most preventable cause of disease, disability, and death in the United States. Each year, an estimated 443,000 people die prematurely from smoking or exposure to secondhand smoke, and another 8.6 million live with a serious illness caused by smoking. Despite these risks, approximately 46.6 million U.S. adults smoke cigarettes. Smokeless tobacco, cigars, and pipes also have deadly consequences, including lung, larynx, esophageal, and oral cancers.
The Tobacco Use Prevention and Cessation Program is a state-administered program that operates within ODH. TUPC receives funding from the CDC and other grants, state general revenue funds, and other funding sources. The program promotes healthy outcomes in adults, children, and babies by limiting the effects of tobacco and tobacco smoke by taking steps to lower smoking rates.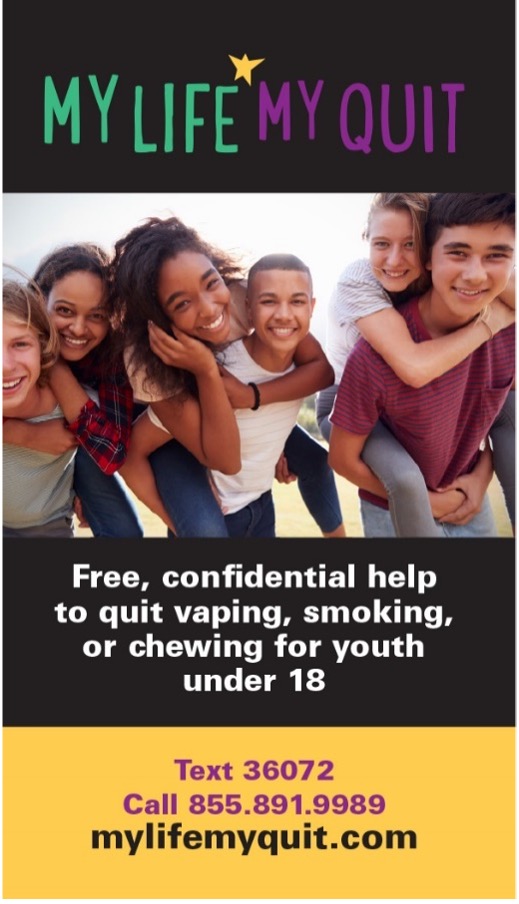 My Life, My Quit is a free and confidential way for teens to quit smoking or vaping. Text "Start My Quit" to 36072 or click on the image to chat with a Coach. Your Coach is with you every step of the way. It's YOUR LIFE and your Coach will help you live it YOUR WAY. Click on the image to the left and start living Tobacco-Free!
Would you prefer personal, individual counseling? Contact our Health Educators who are trained Tobacco Treatment Specialists for help.
Call 740-342-5179 and ask for Lesa Garey.